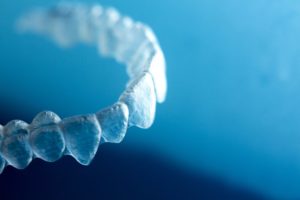 If you've ever had braces and then noticed your teeth begin to shift back out of alignment once they were removed, it's because that's what they naturally do. This is also the reason why orthodontic treatment is so successful when it comes to straightening the smiles of our Barnegat residents. Before aligners hit the market, the only method for straightening teeth was through the use of brackets and wires. Clear aligners like NU Smile Aligner®, Invisalign, and other similar treatments have revolutionized the method of smile transformation. With so many seemingly similar options out there, it can be overwhelming to choose a specific one, but I'm here to tell you that the benefits of NU Smile Aligner® far outweigh other options. From cost to effectiveness, here's why NU is best for you!
Affordability
If you've done any research on clear aligners, like Invisalign or Byte, then you know they're an investment. The good news is you can still receive superior treatment with NU Smile Aligner® for a fraction of the price. Plus, the high-quality materials and treatment process are virtually the same with less of a strain on your wallet.
Bio-Friendly and Hypoallergenic Materials
One of the best parts about NU Smile Aligner® is the materials that it is made out of. Designed to be thin and hardly noticeable, the aligners are crafted using biocompatible, hypoallergenic polyethylene – A fancy name for medical-grade plastic. This material is extremely safe, posing zero risk even to those with very sensitive mouths.
Technology
When it comes to the most modern and up to date teeth straightening technology, look no further than NU Smile Aligner®. From treatment planning, digital scans, and 3D printing, we're not cutting any corners when it comes to utilizing the most leading-edge technology to create an exceptional and efficient product.
Effectiveness
Just because NU Smile Aligner® may not be as well-known as other brands, doesn't mean it's any less effective. When it comes to giving you the smile of your dreams, the treatment rivals the results of Invisalign, Byte, and SmileDirectClub. Plus, it can also correct dental issues beyond teeth misalignment, such as bite problems.
Appearance
Just like Invisalign, NU Smile Aligner® is made of a first-rate, anti-yellowing material that is virtually invisible. No one likes looking back at photos of themselves years later with braces. NU can give you the gift of a more beautiful smile without the sacrifice of wearing wires and brackets.
You're probably familiar with the well-known phrase, "you get what you pay for." In the case of NU Smile Aligner®, less cost does not equal compromised quality. The best part is the oversight and follow up that your doctor provides throughout the entire process. From start to finish, you'll receive honest feedback, detailed recommendations, and the highest quality of care. If you're ready to get things straight when it comes to your smile, it's time to consider NU Smile Aligner®!
About the Author
Dr. Admasu Gizachew is the genius behind NU Smile Aligner®. From the age of 13, he has been passionate about being able to accommodate unique dental needs, since that wasn't an advantage he had growing up. It has always been his desire that all of his patients be able to afford to have the smiles of their dreams, which is what ignited his desire to create NU as an option. He has continually received Top Dentist awards in New York and New Jersey, and he continues to enhance his skills and knowledge through continuing education. Are you ready for a "NU" smile? Visit us online to request a consultation at one of our four convenient locations, or call (732) 945-7991.