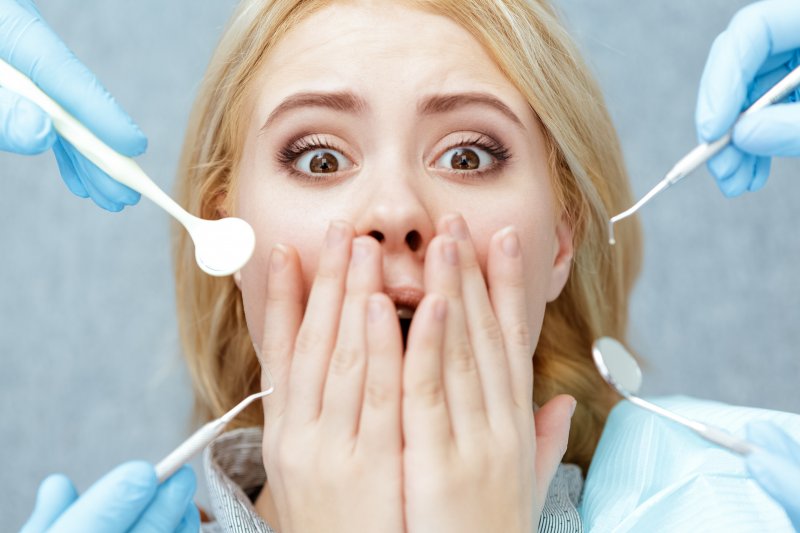 Even if people know they should get regular dental checkups, they don't always do so. Motivated by dental fear, some will choose to keep putting off an appointment or even skip it entirely. However, this is completely unnecessary — whatever form their anxiety takes, patients have the power to overcome their misgivings with reliable reasons and practices.
Listed below is a summary of three fear-related reasons people avoid the dentist, including ways to overcome them. By reading it, you'll find that dental practices aren't scary at all!
Dentophobia
One obvious fear that could reduce dental visits is the fear of dentists themselves, also known as Dentophobia. Those who have dentophobia find the prospect of seeing their dentist daunting, usually because of an irrational belief that dentistry will harm them. For example, some might be scared of sharp objects in the dentist's office. Others, meanwhile, may have had a traumatic experience with a dentist in the past.
Getting past the fear of visiting the dentist could be scary itself. Still, you should find ways to ensure you feel comfortable with the dentist treating you. The more comfortable you are with them, the better you will feel, and the more likely you will relax and trust them.
Shame
Another reason people sometimes don't visit the dentist is feelings of shame. More specifically, they're afraid of feeling embarrassed or judged by the dental practice for poor oral health.
To get past this, choose a dentist you trust to be kind and non-judgmental. That way, you won't have to worry that your dentist will mock or belittle you for poor dental hygiene habits. Instead, you can feel comfortable talking to them about the difficulties of your home dental care. Furthermore, they can give you compassionate feedback on how to improve.
Lack of Insurance
Some prospective patients don't fear their dentists so much as procedures' cost. Namely, they avoid checkups because they fear their insurance situation won't let them cover good treatment. Whether premiums won't let you afford dental service or you lack insurance period, this financial concern is reasonable.
Still, there are potential workarounds. Even if you can't pay for dental insurance, you can probably find affordable treatment with the right tools and research. It's essential that you do, as you otherwise risk letting minor dental problems grow into large ones even more expensive to resolve.
Dental fear can manifest in various ways, but it's almost always possible to soothe it. As seen from the reasons above, it doesn't need to keep you from dental visits that help your smile stay healthy and beautiful!
About the Practice
Nu Dental of Barnegat is based in Barnegat, NJ. Led by head dentist Dr. Admasu Gizachew, their team supplies patients with personalized treatments that make for healthy, beautiful smiles. Consequently, they offer preventive, cosmetic, and restorative dentistry, including emergency dental services. Whether it's a regular checkup or advanced dental implants, this dental practice can handle it. For more information or to book an appointment, they can be reached at their website or by phone at (609)-879-0036.